Thanks to Microsoft your productivity will be boosted
I love technology because it makes my life easier and I adore it when it makes me work more efficiently. As I work in SEO and in particular link building, I am always looking for new tools and software that can speed up my tasks while improving my overall results. I strongly believe this is a key aspect of everyone's work and nowadays it is essential to be competitive in the market.
Microsoft has launched a great tool called Outlook Social Connector that can help you in different tasks (from online PR to sales) and boost your productivity. As soon you type an email address in the receiver form, the software enables you to check the social activity of the receiver . In particular it pulls out data available in two main social networks such as Facebook and LinkedIn so you can see the name of your contact and her/his conversations.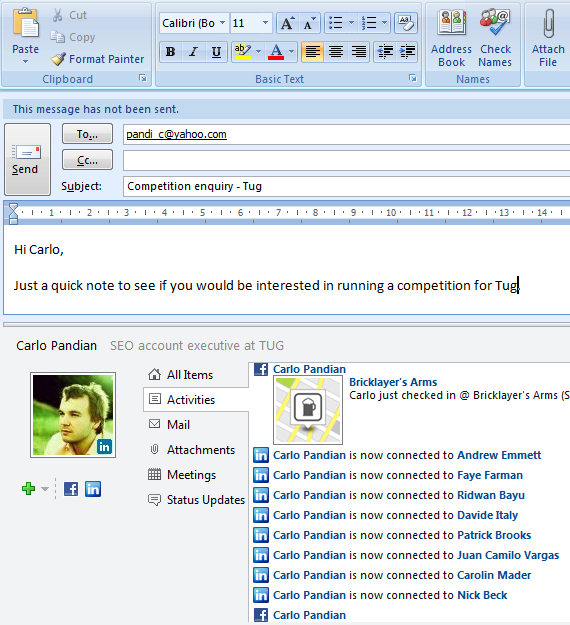 As sometimes I need to email hundreds of bloggers, this has helped me to craft bespoke emails and has saved me a large amount of time which I would have spent checking their profiles or searching for their real names. I am now tailoring better emails without wasting time and I am also increasing my connections on LinkedIn, the main platform for business purposes.
As people have lost their confidence with their privacy and have extended their personality online with public profiles, I bet this kind of tool will become more popular so early adopters, be aware!