Cyber Monday
Have you done your Christmas shopping already? You might not be alone – while retail figures for the wider UK economy are looking rather bleak this midwinter and the OECD predicts that Britain will be back in recession over 2012 the festive shopping period is in full swing. E-commerce is playing a bigger part of the festival shopping season this year as 'Cyber Sunday' and 'Cyber Monday' fall earlier this year than 2010 which should lead to new, record breaking traffic figures across e-commerce sites. Searches for gifts and presents see a royal peak in the UK on Cyber Monday according to Google Insights (pictured ) occurring at the beginning of December 2010, this year looks to peak even earlier, with some claiming it has already happened.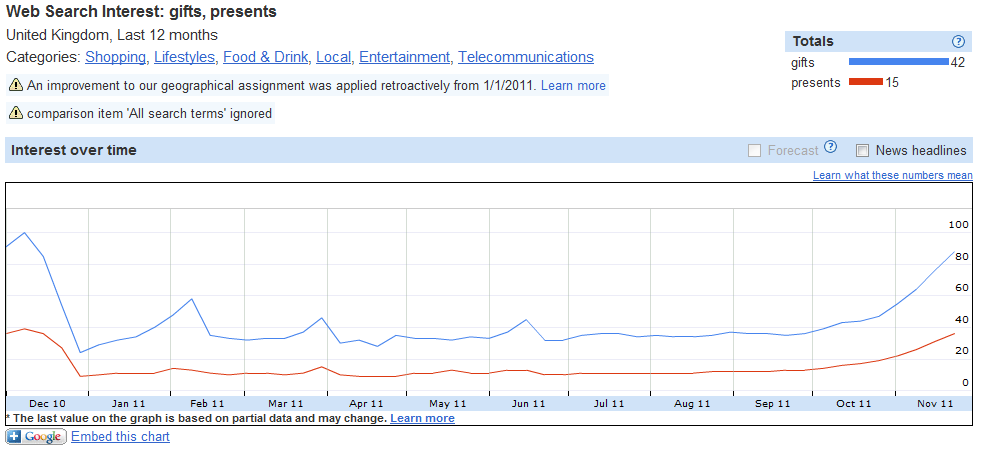 Already trending on Twitter in London, "Cyber Monday" is the e-commerce letter day when consumers grab their credit card in one hand and their mouse in the other, furiously buying those Christmas presents before the non-stop December schedule of parties, family and holidays begin.
Tablet commerce is also set to be a big player in this seasons Cyber Monday as the number of iPad owners has risen sharply. According to the Google Retail team, Tablet users spend 50% more than PC web users. Tablet users also have higher conversion rates and as with mobile, retailers can drive increased performance through this channel by ensuring that campaigns serve seasonal, tablet specific messaging across PPC, SEO and Social.
For more on this and other stuff, follow me on Twitter: @benromberg