If it's good enough for the Dalai Lama….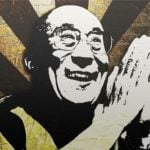 Google + may have been made a mockery of by its founders and owners but when the Dalai Lama joins, it immediately gets itself a lot of kudos.
Throw Desmond Tutu and a hangout in the mix and it all sounds pretty cool.
Would this help to tempt the Google + doubters to use the giant's social offering?
Fact of the Day:
While the Dalai Lama may be new to Google+, this isn't his first social media presence. He also has a Twitter account with more than 2.5 million followers, along with a Facebook page with more than 2 million fans.