Search engine optimization and Halloween
When looking to optimize a website you will consider the keywords that, on average, perform well throughout the year. Let's say that you are working on an ecommerce website that is having a special offer for Halloween or any kind of related products (costumes, club night, restaurants etc.). Do you have a planned SEO campaign to make the most of it?
Below are five interesting suggestions and pieces of data to help start your capitalization on the scary night:
1) Seasonality means the search volume for the term "Halloween" is affected by the time of year. In fact there are  11.000.000 "Halloween" queries in UK in October 2010 compared to 246.000 queries in March 2011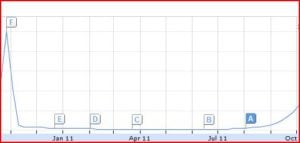 2) Users will search a range of products which you may either sell or want. Examples are Halloween plus costumes, masks, decorations, fancy dress, games, food ideas, film, party ideas, horror nights etc..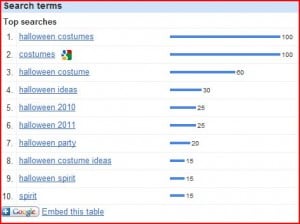 3) Halloween is becoming popular worldwide so there's a new demand for related products and services. Below you can see how the searches are distributed by country.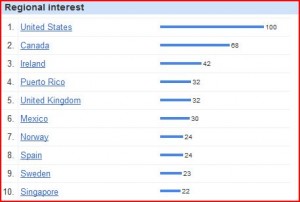 4) It is possible to increase the online revenue for Halloween with a strategy that includes SEO, social media and pay per click advertising (already a big player like M&S has a paid search campaign!)