Google AdWords for Video Beta
Google AdWords has released a new self service campaign format specifically to build video advertising campaigns. AdWords for Online Video campaigns bring completely new video adformats previously not seen on YouTube promoted video accounts.
The new AdWords for Online Video interface means more formats, easier setup, improved targeting, more stats, an engagement-oriented payment metric (known as TrueView), and more ad inventory via YouTube and Google Video Search, and the Google Display Network .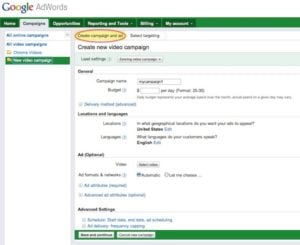 7 reasons to use AdWords for Video Beta
1. Set up your campaigns with tools designed especially for video
Get started faster with a new video campaign workflow. Find links to your YouTube account for quick ad selection, a bid process optimized for a video view, and video-specific reporting metrics to help you track and improve campaign performance.
2. Target—and reach—the perfect audience
Find prospective customers with comprehensive targeting options such as demographics, keyword, interest categories, topics, and specific publisher placements.
3. Spread your video message on a larger scale
Connect with your audience on YouTube, the #1 video destination, and the Google Display Network, which includes millions of websites that reach 89% of the online population.
4. Let viewers choose you—and boost your view count
Let TrueView video ads do the targeting for you. When viewers choose to watch your message, your YouTube view count goes up.
5. Pay per view with TrueView video ads
Pay when the viewer chooses to watch your ad. Set your own budget and bids using the dynamic auction of Google AdWords across the family of viewer choice formats.
6. Encourage your audience to take action
Display an overlay ad over your video to make an offer to your viewers, share more information about your business or drive traffic to your website.
7. Gain valuable insights about your video
See who's viewing your video, how long they're watching it and what other actions they take to help improve your campaign's performance.