Facebook and Google fight over Skype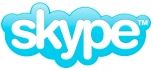 The search giant and the number 1 social network are fighting over the main voice over IP service available on the web. Both Facebook and Google are in talks with Skype with the purpose of acquiring the Luxembourg-based company. Which is the reason why Skype has decided to to delay announcing   publicly that  the company is going up for sale, according to sources from Reuters.
Both companies are interested in purchasing the  voice over IP service. This move would involve the acquisition of the leading company dedicated to Internet calls by one of the two giants who are fighting over of the web.
Although Facebook and Skype would mutually benefit by merging their user communities, so far there is no particular model to increase revenue by doing so. Obviously, a union of this type could enhance the services of both companies. As it would also happen with Google, who has already started working on voice over IP services.