YouTube buys a service that enhances video quality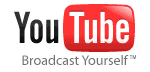 YouTube has secured the services of Green Parrot Pictures, this company has worked in the past on film projects like; The Lord of the Rings or X-Men and they have advanced technology that allows them to improve the quality of video productions. By doing this YouTube tries to increase the playback speed while consuming less bandwidth.
In an attempt to improve its video service, YouTube is still committed to quality. The acquisition of Green Parrot Pictures is a boost to the modernization of the online platform. New technologies, like wireless Internet, pose a challenge to major trends such as video streaming.