Now we can buy Albums in QR Codes?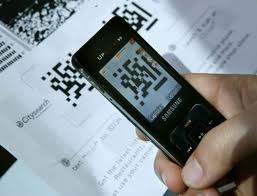 The rap artist Luppe Fiasco launched his album a few nights ago in the U.S…. pretty standard you may say, but the way the album was promoted was far from standard. His album was projected by lasers on to a wall showing a rather fancy QR code.
Just in case you didn't already now, a QR code (quick response code) is a specific matrix bar code readable by barcode readers and camera phones. The information within the code can be text, URL or other data.
The fans who flocked to see Luppe Fiasco were able to point their camera phones at the enlarged QR code and download a preview of his highly anticipated album. The event was promoted through many social media sites including Facebook & Twitter, which turned out to be a huge success and opened the door for new ways in which you can incorporate new age technology and social media to promote music, movies & more.