HP Announce Pre 3, Veer & TouchPad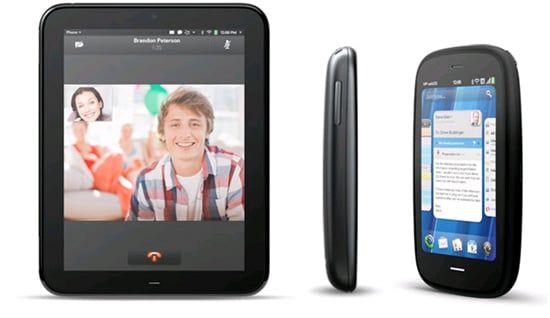 Last night HP released their highly anticipated new phones and tablet with WebOS, the 3 products announced were the HP Pre 3, HP Veer and HP TouchPad.
The Pre 3 has the same form factor as the previous Pre phones but it has a larger screen (3.6″), it also features a Qualcomm MSM 8×55 CPU running at 1.4GHz and other marked improvements such as a new 5 megapixel camera which can record at 720p and a front facing camera. The Pre 3 will run on HP's WebOS 2.2.
The new HP Veer is a smaller version of the Pre's form factor with a 2.6″ screen and features a slower Qualcomm Snapdragon 7230 processor which runs at 800MHz. Like the Pre 3 the Veer features a 5 megapixel camera. The Veer will also run in HP's WebOS 2.2.
The new tablet from HP known as the HP TouchPad; packs a 9.6″ screen with a 1.2 GhZ Snapdragon duel core processor which is sure to keep the tablet running at a high speed. The tablet will also run a new version of WebOS 3.0. Other features of the tablet include a front facing 1.3 megapixel camera for video calling, two options of either 16gb or 32gb of inbuilt storage and a set of stereo features. One of the stand out features of the new tablet is it's operating system, webOS was designed for tablets so it was bound to look gorgeous on a tablet. One feature of the tablet which other's don't have is it's ability to communicate with the Pre 3 by simply touching each other; once the two devices touch they can share data such as URL's, text messages and more.
Check out the official HP website for more information on the 3 devices.