The Church approves confessions through iPhones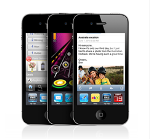 A Catholic bishop has given his approval to an iPhone application that allows users to confess their sins. "In the name of the Father, and the Son and the Holy Spirit", this is what appears on the phone's screen when you run 'Confession: A Roman Catholic App. "
The App Store has everything. Among its more than 350,000 applications, you can find content of all kinds, for entertainment, productivity and even to support religious practice.
A good example is the iPhone application named "Confession: A Roman Catholic App", which has already been approved by a bishop for its use by the Catholic communities. Users can therefore confess their sins to an Iphone….
The application "Confession: A Roman Catholic app", also has a section devoted to prayers. Despite having the blessing of the church hierarchy, the software can't exonerate you from your sins … for that you'll need to be in front of a priest.