Check Thailand's new robot-waiters!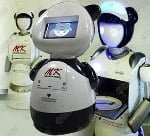 In Thailand, the MK restaurant chain is testing the possibilities of using robots-waiters who are able to take orders from customers and serve them with food and drinks. They move around following lines on the ground but they also have an ultrasonic sensor to avoid colliding with objects.
In 2009 the MK restaurant chain which owns more than 300 establishments, contracted the company CTAsia Robotics to build 10 robots named Din Sow, at a cost of $32,000 each. Seeing that these robots were struggling dealing with customers they requested new ones.
The result was Yumbo, a robot waiter that looks an awful lot like Wall-E, not at all like the robot-teachers that can be found in Korean schools. The new product can carry trays, take the order from the customer and serve food.