Who said that Foursquare was sinking?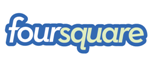 Foursquare geolocation service has grown in 2010 a 3400% and recently reached 6 million users. The company has released an image with its figures of what they called a "a crazy year", which has been a strong push for this application, despite the launch of Facebook Places.
When Facebook Places was launched many people thought it could mean the extinction of Foursquare, however, in 2010 the company recorded 381,576,305 check-ins.
Much progress has been made to the geolocation service, such as integration of the iPhone with Gowalla or the release of its 2.0 version, and optimizing Foursquare for businesses. The following graphics focuses on check-ins.