Windows 7 tablets from Samsung and Dell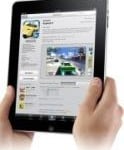 Microsoft's CEO Steve Ballmer will announce the launch of  the new tablets in Las Vegas. The intention is clearly to compete with the iPad. Nick Bilton reports in the New York Times that sources close to the manufacturers have assured that the devices come with Windows 7, they'll include a sliding keyboard that hides and HTML5 applications.
He also tell us that Microsoft has made agreements with Samsung, Dell and other manufacturers. Balmer himself said in July that a new Windows tablet would be available "very soon".  Since then there has been much speculation about the specs of the device. In my opinion most people will be disappointed with the Windows 7 tablets.
A Windows 7 tablet can only compete with Apple if Microsoft offers a simpler consumer experience. A Microsoft tablet that can be integrated with the Xbox and with Kinect, that tablet could become the beating heart of digital entertainment … but I doubt that will happen.