Blackberry reads credit cards with ROAMpay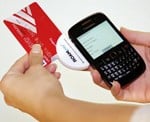 ROAMpay is an external device and an application to read credit cards, which is now available for Blackberry phones.
ROAM Data, the application developers are promoting their new product as the first credit card reader for Blackberry devices … The ROAMpay already works with iOS and Android.
The ROAM Card Reader is a universal piece of hardware that connects through the audio plug of any compatible device and converts the data from any credit card in an encrypted audio signal, which is then processed by the application ROAMpay.
The application is not compatible with all BlackBerry devices but with most of the new ones. In the press release you can see the entire list.