Alcohol Advertising AdWords Policy Change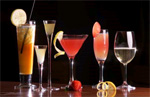 There have been a lot of major changes in the AdWold's advertising policy in the last few years. Most of the changes seem to aim to increase the number of advertisers and boost the company's revenue, not rocket science!
Only two years ago, gambling advertising was allowed in the UK by AdWords and we have seen the industry min CPCs increasing to as high as £50 for some casino terms. However, the return was well worth it for a lot of the industry advertisers.
This month, it was announced in the AdWords Policy Change Log that the AdWords policy on Alcohol will change around late November 2010. In addition to currently allowing ads that promote hard alcohol branding, the new policy will allow ads to promote hard alcohol sales. "To maintain ads quality and to comply with local laws and regulations, Google AdWords will only allow ads that promote hard alcohol sales/branding when they strictly abide by certain advertising restrictions." The change will affect 32 countries including the UK.
The ads and websites will also have to meet a longer list of criteria than a regular advertiser:
do not target minors
do not include endorsements from athletes, cartoon characters, or any other icons/people appealing to minors
landing page must have an age gate and include statements about drinking responsibly
do not imply that drinking alcohol can improve sexual, social, or professional standings
do not imply that drinking alcohol is relaxing or therapeutic
do not indicate that drinking alcohol in excess is good
do not show people consuming alcohol while doing anything illegal, violent, or dangerous; or being inappropriate in other ways, such as acting in a degrading manner
do not contain sexual content
It is still very uncertain how the ads and websites will be going through the editorial review and if there are any specific registration procedures involved as it was with gambling advertising.
It is to be expected that the competition will be very aggressive and the CPCs will reach it's peak at the start of the campaigns. However, there is a great opportunity for all major alcohol manufactures and resellers to increase their online presence and reach their potential customers in a very efficient way.