A little bit of Info about Facebook PPC Ad's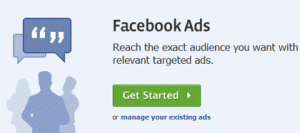 Attention all Facebook users… by now i'm sure you have noticed the Ad's that appear on the right hand side of your Home/Profile page while you're doing your daily stalking (sorry, I meant socialising).
For those of you that are currently involved in Facebook PPC advertising, I'm sure what I am about to write will not come as much of a surprise to you, but you never know!
Basically, Facebook are running a similar style of PPC advertising to Google Adwords, but in their own special Facebook way. Adwords is a Keyword based PPC SEM tool whereas Facebook's targeting is more Demographic based, such as: Gender, Age, Interests/Likes, Birthdays & Geography to target the Ad's to the desired audience.
Setting up a Facebook PPC Campaign is fairly straight forward, and once you get to grips with how it all works (Ads & Creative's, Targeting, Bids & Budgets, Analytics & Optimization), you will be on your way to success.
Facebook Ad's can be used to further your businesses online marketing goals, or purely to create awareness of something you are looking to promote to the masses. You can even choose to create an Ad that will link to your Facebook Profile/Fan/Company page, which many International Corporations have already taken advantage of, e.g. Coca Cola, New Line Cinema, Visa & Victoria's Secret.
To sum up, if you are thinking about the possibilities of Facebook PPC and whether it could be advantageous for you or your business, I would have no hesitation in giving you a big thumbs up!
For more info on Facebook Ad's check out this blog http://subliminalpixels.com/facebook/how-to-set-up-and-track-facebook-ads/