Apple's iPhone4 Defence Backlash!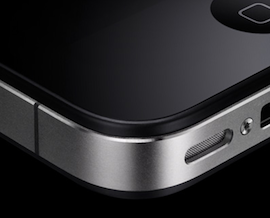 In-case you haven't already read about the problems with the iPhone4 and the latest news surrounding the story, I'll give you a quick recap. Firstly the main issue with the new iPhone4 is the external antenna located on the bottom left side of the phone which when covered by flesh decreases signal and drop's calls.
Apple recently held a press conference last Friday to address this exact issue. In the press conference Apple blamed "smartphone antennas", explaining how all Smartphone Antennas have the same issue and all phones drop signal when you hold them – in particular they picked on HTC, Blackberry RIM and Samsung. They then ended the conference by announcing that they will be giving away free rubber cases to everyone who buys an iPhone4.
Unfortunately for Apple, this hasn't quite gone as planned – there has already been a backlash from both the users of HTC, Blackberry and Samsung Smartphones along with the manufacturers. No one can seem to replicate the same issue that Apple explained is on every other Smartphone device. The latest manufacturer to chime in with their take on the issue is Blackberry – see a quote below:
"Apple's attempt to draw RIM into Apple's self-made debacle is unacceptable. Apple's claims about RIM products appear to be deliberate attempts to distort the public's understanding of an antenna design issue and to deflect attention from Apple's difficult situation. RIM is a global leader in antenna design and has been successfully designing industry-leading wireless data products with efficient and effective radio performance for over 20 years…."
Full Replies from Manufacturers: Blackberrys Reply, Samsungs Reply, HTCs Reply