Microsoft Release iPad Competitor – Windows Embedded Compact 7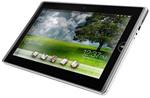 Over at Computex 2010, Microsoft have released their new compact operating system based on Windows 7. Microsoft have shown off a number of new tablet devices (like the iPad) showing off the new operating System from manufacturers including LG, Asus & Viliv. Windows Embedded Compact 7 is basically a cut down version of Windows 7 that takes up less power and is easier for portable devices to run. A vast majority of the new tablets being displayed were high spec Nvidia Tegra powered devices which are more powerful than the iPad.
Apple now have vast competition in the Tablet market with companies creating their own bespoke tablets such as the MeeGo as well as tablets by companies such as Samsung based on the Android OS.
See below for a quote from the Official Press Release:
"The Windows platform creates tangible opportunities for our hardware partners to diversify their product portfolios and deliver rich computing experiences across a broad range of devices," Guggenheimer said. "The Windows Embedded Compact 7 toolkit will allow for richer customer experiences on a variety of specialized devices. We look forward to continued collaboration with our hardware partners to bring the very best experiences to customers worldwide."
Engadget have a host of articles showing off both the tablets and the OS. Microsoft have also launched a microsite.