Facebook overtakes Google (but won't in the UK)
Last week, Nick posted on the story that Facebook had picked up more US Internet visits than Google.com.  But what about the UK?  I found a very nice post by Robin Goad from Hitwise that goes in to a bit of detail about this.
Facebook is the second most visited website in the UK, but Google.co.uk remains ahead of it.  Last week Google.co.uk picked up 9.34% of UK Internet visits, whilst Facebook accounted for 6.01%.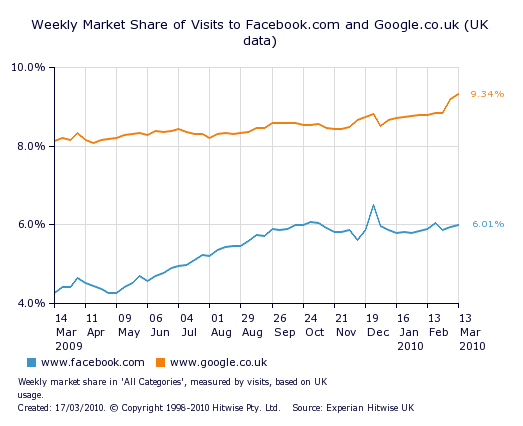 Why aren't we in the UK seeing the same trend as the US?  Well, two reasons…firstly social networking is still more popular in the US and secondly Google has a larger share of the search market in the UK (90%), as opposed to the US where its share is 70%.
So it doesn't look like we'll see Facebook overtaking Google over this side of the Atlantic very soon.