10 years since The Dotcom Bubble
Wow, 10 years today since the bursting of the dotcom bubble!  Great post here from Robin Goad from Hitwise about how the Internet landscape has changed over the last decade:
"Below is a list of the top 20 websites in the UK last week, with Google and Facebook topping the list. Back in the heyday of the dotcom bubble, Facebook wasn't even a glint in Mark Zuckerberg's eye, and Google was still in its infancy.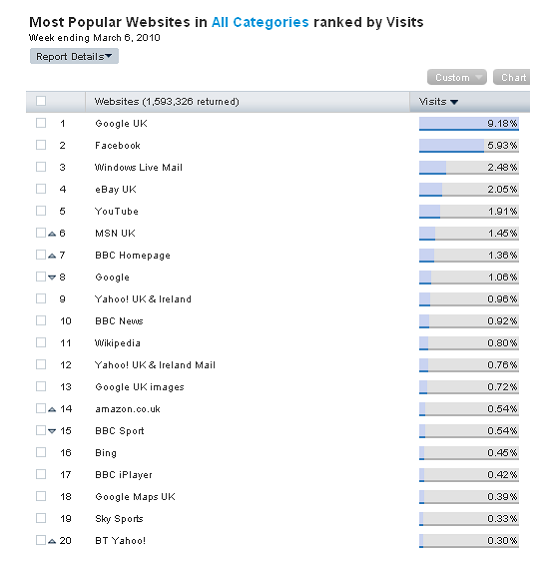 However, a number of the sites that were big back then remain so today: Windows Live Mail (Hotmail) and Yahoo! Mail still rank in the top 20, and both Microsoft and Yahoo! have other popular UK sites as well. eBay and Amazon remain the most visited retail websites in the UK, although they now face much stiffer competition from both online and multichannel retailers now.
But what about some of the names most closely associated with dotcom boom and bust?
Lastminute.com – one of the great survivors of the bubble; still a top 20 UK travel site.
Boo.com – given the success of fashion retailers like ASOS, which makes such good use of multimedia on its site, maybe the doomed clothing retailer was simply ahead of its time and would have survived in a broadband world?
Broadcast.com – the likes of Last.fm, Spotify, BBC iPlayer, Hulu and YouTube have proved that streaming media can be a success, but they all would have struggled over a dial up connection….."
I wonder which of these sites will still be widely used in ten years time?