Basic tips for working out mobile web traffic estimates
One of the main issues when conducting keyword research for mobile websites is the lack of information on mobile web-only traffic.  However, we can now use a couple of Google properties to gather interesting data to help us set up a mobile campaign.
Mobile traffic in Google Analytics
If you have access to Google Analytics on your traditional website, you will be able to see how mobile web users are finding your website; simply go to the Visitors area and click on Mobile, you then can select between traffic sent by Mobile Devices or Mobile Carriers. Use the filters to break down data by keywords, medium, etc.
Although the percentage of mobile web traffic is normally very small compared to overall traffic, this may help you understand that mobile web users tend to type fewer keywords, and are more likely to make typos.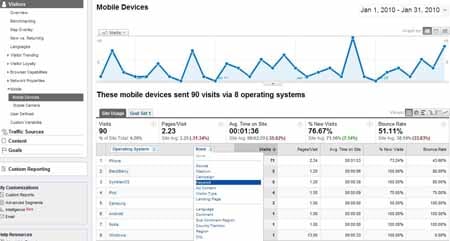 Google started reporting on Mobile traffic in Q4 2009
Mobile web traffic estimates in Google Adwords
Also in 2009, Google updated the Adwords interface adding new features and the possibility to obtain estimates for mobile web traffic from the keyword tool.
Just access the Google Adwords Keyword tool (from the Opportunities tab > Tools) then tick off the Show stats for mobile option and you will be able to see global and monthly searches and even add further PPC data (CPC, etc)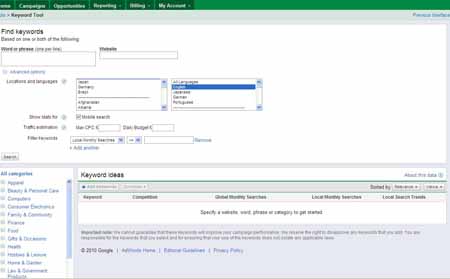 With mobile web traffic estimates in place and some information about current top keyword drivers, you will be able to put together a decent list of key-phrases to target within your mobile campaign.
Read more about our search marketing agency and all the search engine marketing services Tug provides!