Spotify Announce Mobile Support for Symbian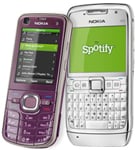 Spotify have officially announced the launch of their new apps for the Symbian mobile platform. Spotify already have apps on both the iPhone and Android, but this move could create thousands of more paying customers with the mobile dominance that Symbian possesses. See below for a quote from the Spotify Blog:
"Today we're delighted to announce the launch of Spotify for Symbian. Symbian is the operating system used by a number of smartphones including Nokia, Sony Ericsson and Samsung.
Today's release means that Spotify Mobile is now available on millions more phones, such as the Nokia 6220 Classic, E71 and 5800 XpressMusic models. The application will also run on some of the more popular Sony Ericsson and Samsung smartphones, such as the Samsung GT-I8910 Omnia HD and Sony Ericsson Satio. Symbian is our third launch for Spotify Mobile, along with previously released iPhone and Android versions…."
Related Links: Spotify Blog, Spotify Mobile, Spotify