Sergei Brin: A 'Shame' That Yahoo Has Abandoned Search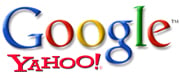 CNN reports that Sergei Brin (co founder of Google) has said that it was a 'shame' that Yahoo has abandoned search. See below for a quote from CNN:
"I think there's a lot of interesting stuff going on," Brin said at the Web 2.0 summit in San Francisco. "I think it's a shame that Yahoo has abdicated that area. Yahoo had a number of interesting innovations there and I wish they could have remained in search."
Microsoft's newly-launched search engine, Bing, has also reminded Google that Internet search is a "competitive market," Brin added…."
Read the full article here.