YouTube Adds In Depth Stats to Videos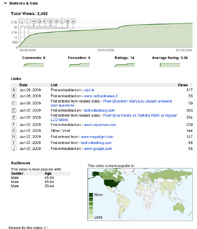 YouTube have recently added a new statistics feature to it's videos which allows users to:
– View how many views the video has had on a timeline
– View which websites have embedded their video and when (this is then relayed on the timeline)
– View Refferals from other YouTube videos
– View what the user searched on YouTube to find the video
– View the Geographic location which the video is most popular in
– Summarises the Comments, Favourites, Ratings and Average Rating
This is a great addition to YouTube and sure to be popular with it's users. It also allows agencies to report in greater detail on Video seeding activity. You can find this new feature by clicking on "Statistics & Data" just above the responses section.