Traffic to Social Networking Websites Overtakes Retail
According to Hitwise statistics in their latest newsletter, traffic to Social Networking sites has overtaken traffic to Retail websites for 3 consecutive months (January, February and March 2009.) This was the opposite last year, with Retail websites gaining traffic over Social networking websites. Here's a quote from the Hitwise newsletter: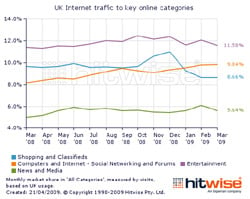 "The growth of social networking, online video and the continuing popularity of news websites has meant that an increasing proportion of consumers' online time in the UK has been devoted to online media. Historically this has gone hand in hand with the growth of online retail, but over the last 3 months online retailers seem to be suffering from the economic downturn for the first time. Traffic to online retailers always peaks over the Christmas period, then declines during January and February, but picks up in March. Last year UK Internet traffic to online retailers increased by 0.8% between February and March, but this year it fell by 0.1%. The decline between December and February was also greater this year…"
You can find the Hitwise website here.