Screenshot of Microsoft Kumo Appears on the Web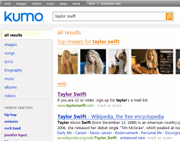 Cnet have reported on a new screenshot and internal MSN email talking about the new MSN Search Engine, Kumo. Below is a small quote from the article:
"As I noted earlier on Monday, Microsoft plans to start internal testing later this week of Kumo, the rebranded version of Live Search. Now I have a screenshot to share…."
View the screenshot and full article here.