Yahoo Improves News Related Searches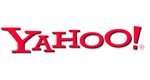 A few days ago, Yahoo announced that they had dramatically improved search results relating to news. Their goal was to improve the freshness and recency of news showed on Yahoo search results. Here's how Yahoo have done it:
Based on the newsworthiness of each query, we're now displaying the News Direct Display (DD) in the most relevant position(s) on SERP
We're also better able to detect queries that are newsworthy, which means we're showing more fresh News DDs than before
Currently this only seems to be available in the US, click here for an example.