Five questions for five digital marketing graduates
At Tug we know the value that graduates bring to any company. Every year we take on graduates through our Grad Scheme. We believe that investing in new people creates industry experts and that our graduate training programme offers the tools necessary for them to excel in digital marketing.
Five of our recent graduates have been with us since August. they are:
Georgia Bowyer – Client Services Account Executive
Cat Stothard – SEO Outreach Executive
Maria Lind – SEO Outreach Executive
Nadine Head – Paid Media Executive
Caitlin Wilson – Paid Media Executive
We took five minutes to ask them all five questions about graduate life. Here's what they had to say.
1. Did your University degree prepare you for your job today, and why?
Caitlin: Definitely – timekeeping and adhering to deadlines, working in teams and of course being able to work through a hangover after team socials!
Georgia: Yes and No. My degree gave me a basic understanding of trends in digital marketing and helped me to work to tight deadlines. However, it didn't really prepare me for working with clients or adapting to such a fast-paced company.
Cat: I studied politics and international relations for my undergraduate and postgraduate degrees, so I wasn't specifically prepared for a job in Search Engine Optimisation. However, being a student taught me so many transferable skills that I use in my day to day tasks at Tug. Skills in organisation and timekeeping, which help ensure I meet deadlines and achieve targets, and extracurricular clubs and being on executive committees improved my communication skills, which are a necessity as an outreach executive.
Maria: To some extent, my degree prepared me for my current role. My degree, which was in politics and sociology, did not necessarily cover subjects that are required for an SEO outreach executive role. However, sociology taught me about studying society and different groups of people. I developed analytical thinking that is useful in a digital marketing role when analysing the development of trends and understanding what works for different groups in society.
Nadine: I don't think anything prepares you for the transition into the 'real world' after you graduate! Something I've really taken on board from my degree is proofreading and a 'check and check again' mentality. When uploading campaigns for PPC and Paid Social we always must make sure everything is correct and there are no errors. Doing a degree in journalism, when I was uploading articles and blogs to my website and for assignments, I had to edit and check it all the time. Going from a laid-back 3 days a week timetable to a full-time job is something that can take some time to get used to. You will be exhausted and want to go to bed at 8 pm every night until your body clock finally gets used to the change.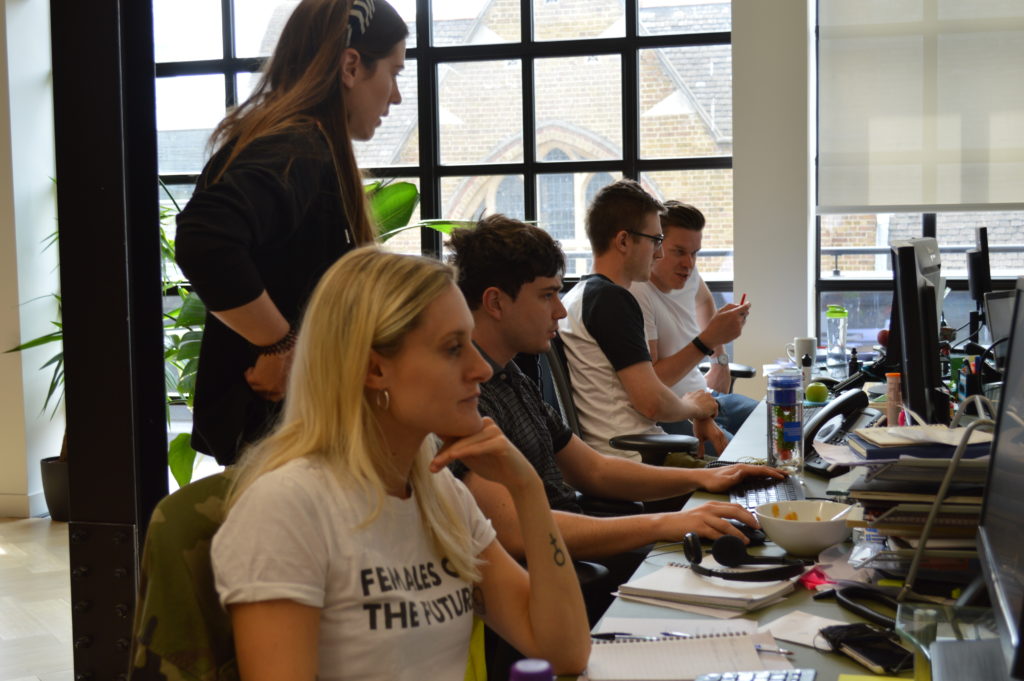 2. What made you want to work in digital marketing?
Caitlin: I've always been fascinated by adverts and analysing them – this made me want to work behind the scenes. It is an amazing feeling seeing one of our client's adverts on a billboard that I placed.
Georgia: I've always been interested in working in marketing, but digital marketing stood out to me more as I started to spend more time online and on social media. I wanted to be able to work across multiple platforms to optimise campaigns on different channels. Digital marketing is becoming bigger and more competitive every day, and I like the idea of working in an industry that is changing so quickly.
Maria: An opportunity came up for a Swedish marketing role and since I am Swedish it obviously caught my attention. The role foremost focused on link acquisition for iGaming and Sports clients. I really enjoyed working in a team and the sociable part of acquiring links. In this role, I developed an interest to learn more about SEO and to explore a marketing role that had more dimensions to it. I enjoyed the work but wanted to move away from iGaming clients. I believe that is why I ended up at Tug. In my current role as an SEO outreach executive allows me to be creative by finding different strategies to acquire links and to learn more about the technical and analytical aspects of SEO.
Cat: After I completed my undergraduate degree, I organised some work experience at a digital marketing agency. I thoroughly appreciated spending two weeks learning about Search Engine Optimisation, which I knew nothing about prior to that experience. I found it so interesting, as I didn't know that anything made a different to search engine rankings, unless you paid for an advertisement. Learning how to improve rankings organically was fascinating to me, so when I saw the job advertised by Tug Agency, I thought it would be a great opportunity to get involved with this industry and learn even more.
Nadine: I completed a Multimedia Journalism degree, and even though I do still love to write and blog, my true passion lies within social media and digital marketing. This is what really interested me most as I was keen to learn more about how digital marketing can benefit a business and what route I can take, as marketing is such a broad career path. I was always interested in how companies created their media content and how an audience interacts with it. I still love the creative side of things and I would want to continue to pursue that in some way, but I also love the technical side of things and how you can really see the benefits that digital marketing and paid advertising can make for a business.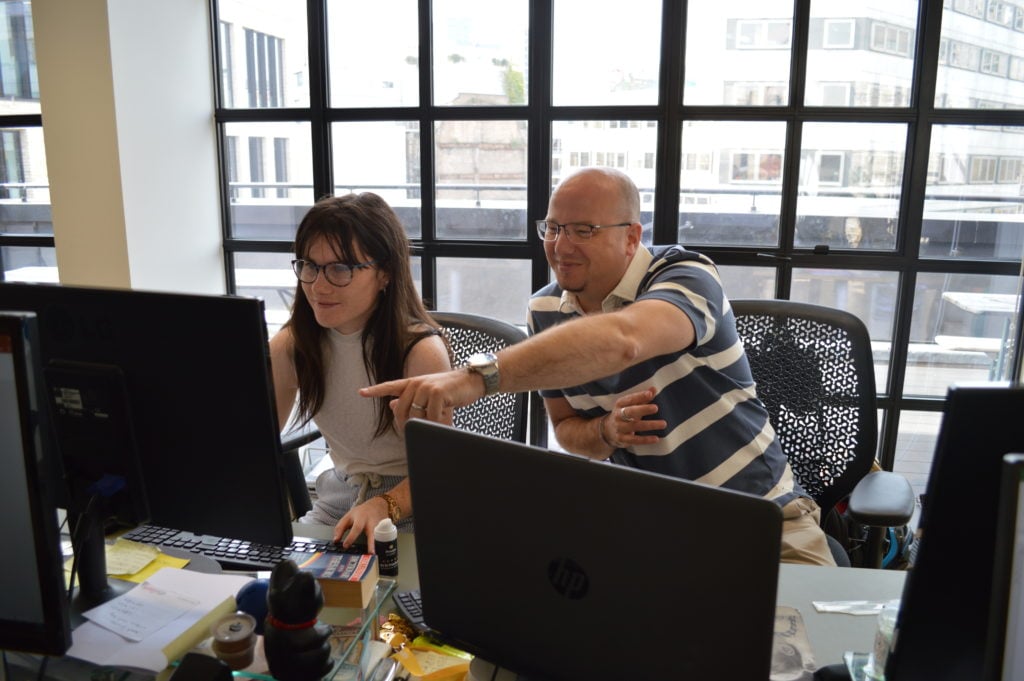 3. Is your job anything like you expected it to be and why?
Caitlin: Yes and no – I underestimated how fast-paced the industry can be, this can be stressful at times but mostly exciting! I always wanted to work in an agency rather than in-house as I thought it seemed more fun, and I wasn't disappointed!
Georgia: With a role in the client services team, obviously I was expecting to have a lot of contact with clients. I didn't really expect to be put on the biggest clients in the agency, however, I think that this is a major perk of working at Tug, as it has given me the opportunity to get first-hand experience from the biggest and busiest clients.
Maria: Both yes and no. I knew from previous experience that my role involves researching for link opportunities and creating relationships with valuable websites. This means a need to use my communication skills in creative ways. However, the role has a lot more to it and I am constantly introduced to new tasks. I was hoping for the role to challenge me and to introduce me to new skills within SEO but was not sure this is what I could expect. I did not expect to be as involved in different whole processes as I am so early on in my role, which has reached beyond my expectations. I believe that is far more than I expected and I am very happy that we executives are given that trust and opportunity to contribute with our thoughts and skills early in the process.
Cat: My job isn't anything like I expected it to be, mostly because I didn't know what to expect at all! I had never worked in an office environment before, and although I had a good idea of the SEO fundamentals, and the importance of backlinks, I didn't know what the role of an SEO Outreach Executive would entail on a day to day basis. Regardless, I really enjoy what I do.
Nadine: I would say that it is yes, I came into the role not knowing a huge amount about Paid Media, so I expected it to be what was specified in the job specification, which it is. I wasn't prepared for how much I would learn just in the first few weeks of the role. It can be quite daunting having so much to remember but like in any new job, you won't know everything at the drop of a hat, and you are learning every day. Plus, there are so many branches on the digital marketing tree I feel that working in an agency environment with so many different departments you're constantly learning how to do your role in your department, but also getting the chance to learn about other paths in the digital marketing spectrum.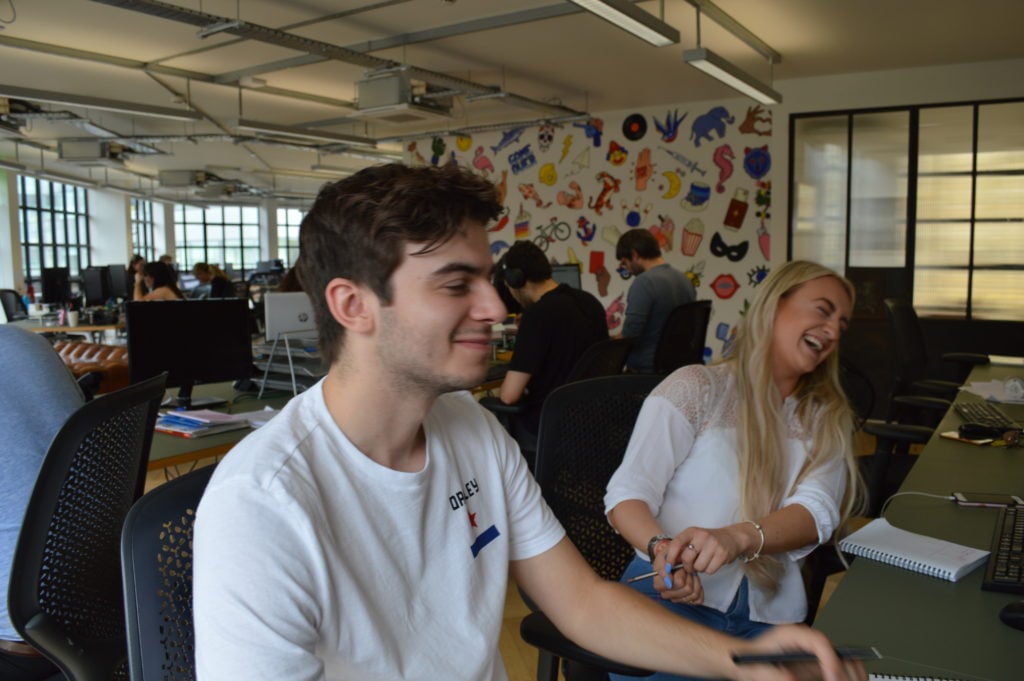 4. What is your favourite thing about your job?
Caitlin: I love how no day is the same – I am always working on different projects and constantly learning. I also love that being in a smaller agency, my voice is always heard, and new ideas are always welcome.
Georgia: I get to work across multiple clients with different campaigns, so my job never feels repetitive. The clients that I work with are so interesting, and I love being involved in a range of campaigns across multiple digital channels. It's great to see how our hard work as an agency helps brands to grow. Client lunches are also a massive plus!
Maria: My favourite thing is the different aspects the job offers me. I am introduced to many different clients and involved in various tasks. I like that I am trusted with a lot of responsibility early on and I am given the opportunity to learn new things when asking for it. I enjoy working in a team that listens to my ideas. It's an open environment where everyone can share their insights and a creative environment with forward-thinking people. This has given me confidence and help me challenge myself. I believe I am learning more and more about SEO and developing my skills which I am enjoying.
Cat: Other than the lovely people that I work with, my favourite thing about my job is the opportunity to work on so many different tasks, for so many different clients. I really love learning new things; being able to work on multiple tasks for multiple clients means no two days are the same, which I enjoy. I also love the feeling of reaching our target for the month!
Nadine: I like that my job has so much variety, and that no day is the same. I really enjoy doing PPC and Paid Social, and although my passion lies more on the social side, I like how I've got to know more about how PPC works and I understand more now how paid advertising works in the everyday world. On top of this, I'm still able to be creative within the role by creating ad copy for campaigns and being given the chance to contribute to the Tug blog as I still have a passion for blogging. I also love that I have a great team of people around me who are there to help and support me if I am struggling with anything or if I'm unsure on how to do something.
5. What is the most important thing you've learned since graduating?
Caitlin: The most important thing I've learnt since graduating is not to compare myself to others. Just because you are the same age as someone or went to the same university doesn't mean you will have the same career path or be at the same stage in your lives.
Georgia: I think that it's really important to show others in the company how hard you are prepared to work, and how seriously you take your role. When you are working as a student you are working independently for your own achievement. But when you start working in a professional job, not only are you working hard for yourself, but you are also working hard for your team and the success of the company.
Maria: There is a lot of stress and pressure to find a good job and career. I have learnt to trust myself that I am good enough and to not give myself such a hard time. There is a lot of competition out there and many graduates applying for the same jobs. Once you start looking and applying it feels a bit daunting. The most important thing is to trust yourself and realise so many people are in the same situation. And it will work out. There is no need to stress that much and putting pressure on yourself. Obviously, it is good to challenge yourself and to have ambition, but I have also learnt to give myself some credit for having ambition and doing my best.
Cat: I think the most important thing I've learned since graduating is that even though everything is so different from university, and all your friends are spread across the country, and you have to get up super early in the morning, if you are doing something you enjoy and have the opportunity to learn and experience new things, everything will be okay. Also, that it is so important to make time for yourself. I found that trying to see people every day, and making loads of plans during the week, like I did whilst at university, just wasn't a good idea, especially when I had to get up so early in the morning. I quickly realised that you really need to ensure you can have some down time in the evening and get a good night's sleep during the week.
Nadine: The most important thing I've learnt, and it may sound cliché, but it would be to never give up on what you're passionate about and truly want to do. I came out of university and struggled for over a year to find a role in digital marketing, the competition is so high, and you really must do whatever you can to make yourself stand out. I had so many interviews and got through to different stages, but I never was successful. It may not feel great at the time, but you've got to pick yourself back up and keep applying. It's also important to remember that not everyone is going to find a graduate role or job to fit their career path straight away. Once you get the opportunity to work in the role you really want, make sure you show how much you want the job and want to do well. Because once you've got your foot in the door, you can begin to get the experience you need to progress in the future and keep building on your knowledge of the industry.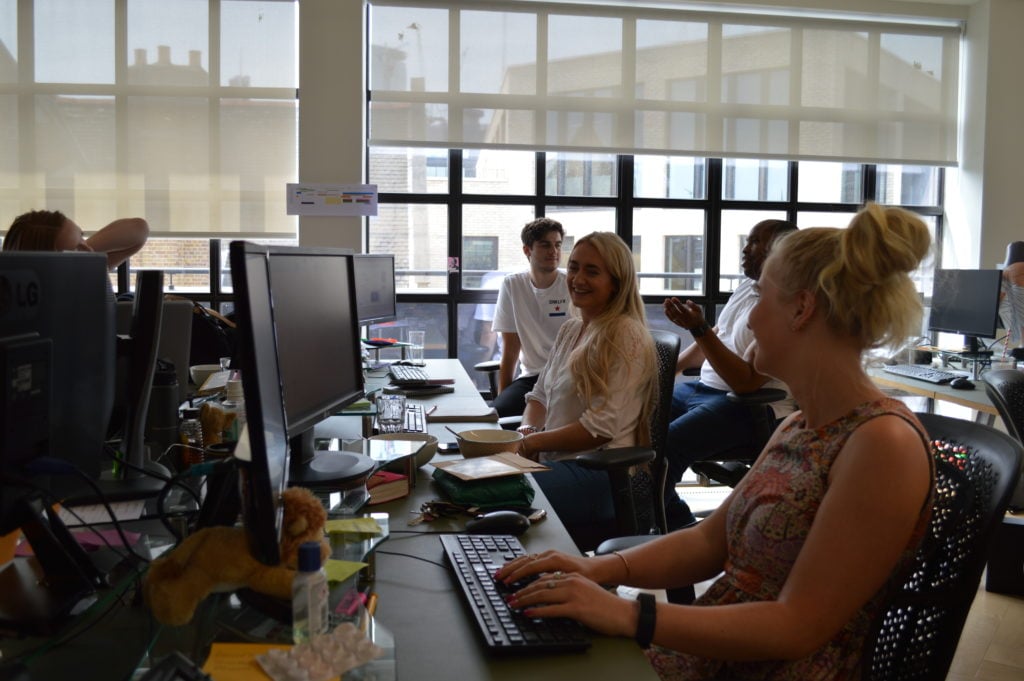 And finally, what one piece of advice would you give to Uni students hoping to find a grad role when they finish their studies?
Caitlin: Don't give up hope, and keep applying until you find your dream job! After being unable to find a job in advertising in my home town after graduating, it took me almost a year (including moving to a new city) to find what I was looking for. Before I got my interview for Tug, I almost took a job working in recruitment because I was ready to give up hope! Now I am extremely grateful I didn't give up.
Georgia: Do anything you can to get some experience before you start applying to grad roles in the industry you want to go in to (if you haven't already). There are thousands of grads with the same degree and grade as you. You need to be able to talk about the experience that makes you stand out from the rest. Have something on your CV that makes you interesting, but is also really relevant for the role/industry you are applying for. Also, brush up on your Excel formulas, because they always come in handy!
Maria: Be open to different roles and try to not only search for roles that are relevant to your degree. It obviously depends what you have studied and what you are hoping to end up doing, however, it is worth knowing that you will learn lots of skills no matter what industry you end up in. For most people, it is a learning curve and you learn what you like doing while doing it. Once you are in a proper working environment and try different things you will gradually learn what you like. Is it working in a team or individually? In a small or a large company? It takes time to figure out what environment you like to work in and how you like to work. So, I would foremost advice to be open-minded.
Cat: I would tell them that it is important that they start looking early and get organised. Lots of graduate scheme applications close in October or November, so it is important to ensure deadlines are known. Most universities have career advice centres that can help with figuring out what to apply for and when, as well as help with the applications themselves. I would suggest making an appointment with a career advisor early in the academic year. I also think it is important that those seeking graduate roles keep an eye on Linkedin, Milkround and other sites for any new graduate openings in the career they are pursuing, so that no opportunities are missed.
Nadine: I think it would be to do what you can to build your CV, take part in some work experience to show you have real-life industry knowledge. Another way would be adding any additional experience that may be relevant to the role or industry you're applying for. I have my own personal blog which I updated with any new content that I had written to build a portfolio to show employers. I also took an online course in social media marketing to show that I was willing to learn and wanted to build on what I had already learnt at university. Companies are looking to hire graduates, so you have the chance to learn how the role works and industry works. The leap from university into the real world is no joke, and graduate roles are a brilliant way to make that transition without feeling too overwhelmed with everything.